EV Chargers in Shepparton & Goulburn Valley - Electric Vehicle Charging Bays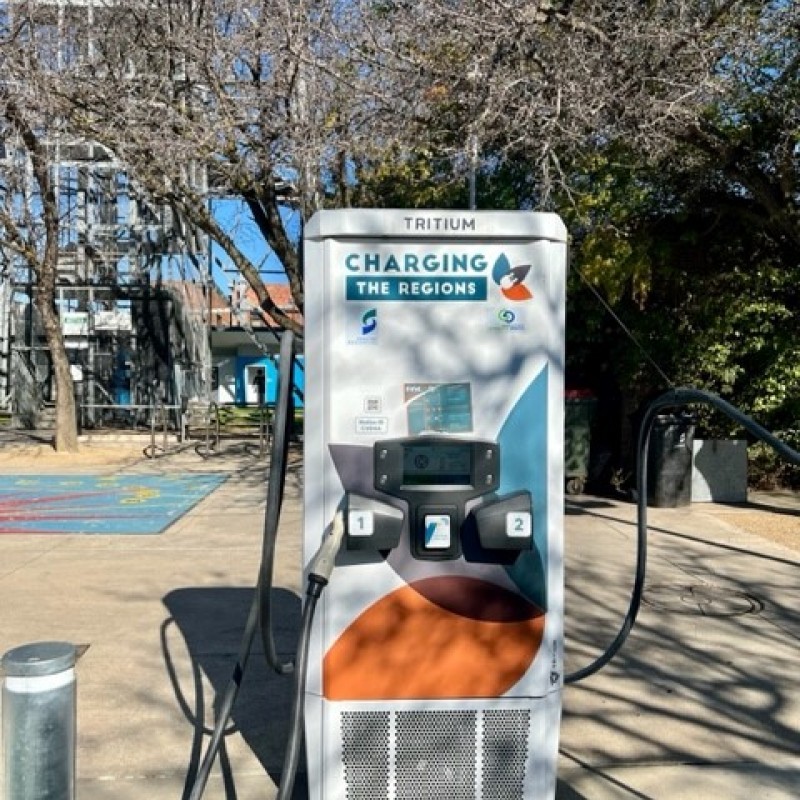 Two dedicated EV fast charging bays are in Fraser Street, Shepparton, and two in McLennan Street Carpark, Mooroopna (Centre Median) supporting the shift to low and zero emission vehicles. With a 90 minute parking time limit, the 50kW fast charging bays can only be used by electric vehicles and they must be charging at the time of parking.
Where:

Shepparton & Goulburn Valley VIC 3630
EV drivers will pay 40c/kw for the electricity they use within their time limit with payment made through the Evie Charging app. Adapters are required for Tesla models S and X.
Petrol and diesel vehicles cannot park in EV bays.
EV drivers are also welcome to top up their electric vehicle at other locations within Shepparton & Goulburn Valley: 
Four charging bays are available at the SAM carpark, Fitzjohn Street, Shepparton. Access is available 24/7 to the free 11kW AC chargers with type 2 plugs.
Museum of Vehicle Evolution (MOVE) has a free 22kW Type 2 charger with 24/7 access on the Linga Network, own charging cable required. Card access is required, with the card available from MOVE front reception during business hours.
Rye at Tallis in Dookie has two 8kW Tesla electric car charger connectors available during cellar door hours. 
The Vaughan Street Car Park at 7 Ashenden Street has six 250kW Tesla Superchargers with type CCS/SAE plug. 24 hour access. Payment required.
Tatwash in Hogan Street Tatura has a 25kw DC Chargefox electric vehicle charger. 
Accommodation with EV Chargers for their guests:
Quest Apartments Shepparton in Welsford Street, Shepparton
View the PlugShare Map here.